Automotive Repair Shop in Coats, NC
Coats Tire & Auto Center LLC offers comprehensive automotive maintenance and repair services, and we're your destination for new and used tires. Our automotive repair shop in Coats, NC employs a team of expert mechanics to handle everything from installing new brakes to rotating tires. North Carolina drivers bring their cars, trucks and SUVs to our mechanic shop for dependable, affordable service.
Need A Tow?
NEED A MOVING TRUCK? WE NOW OFFER U-HAUL RENTALS!
trusted
We stock new and used tires manufactured by the industry's most trusted names.
experience
We bring years of experience to every repair or maintenance service we perform.
priority
Our top priority is getting drivers back on the road quickly and inexpensively.
bilingual
We're bilingual to better serve our customers. ¡Se habla Español!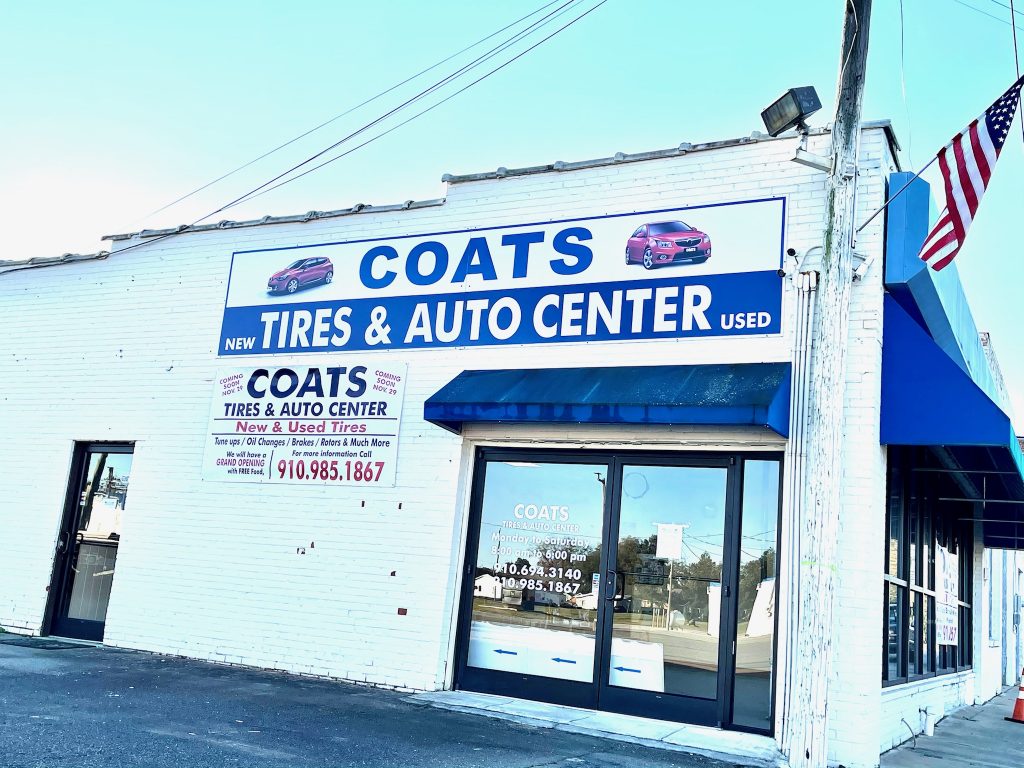 Full-Service Mechanic Shop and Tire Shop
While automotive manufacturers continue to improve the cars, trucks and SUVs they sell, vehicles eventually need maintenance and repair services, along with new tires. When the time comes for an oil change, alignment, TPM servicing, motor repair or tune-up, drivers just like you head to Coats Tire & Auto Center LLC. Our customers in Coats, Barclaysville, Buies Creek, and Turlington, NC trust our tire shop to offer transparent service without upselling them, and to treat their vehicle like it was our own.
Read More…
Throughout its life, your vehicle will need maintenance—whether that's an oil change every 3,000 miles or new spark plugs every few years. Our competitively-priced oil changes mean you can bring your car in for necessary care without breaking the bank. We also offer just about any other routine service you might be due for, including belts, hoses, plugs, batteries and a tire rotation. When it comes to maintenance, turn to us to keep your vehicle road-ready. It's easy to forget that cars are also complex machines, and anything could go wrong as you rack up the miles. No one wants to break the bank paying for engine, brake or other car repair work. We provide the repair services you need at bargain-friendly prices, so you feel comfortable bringing your vehicle back to us for additional work in the future. Whatever the issue, we'll take care of it—even if it's just a blown-out tire.
Our tire center stocks new and used tires from the best manufacturers
We have tires in all sizes and tread types to meet the demands of your vehicle. From standard, all-season tires to specialized off-roading truck tires, our new and used tires have you covered. Our mechanics provide expert installation for everything from engines to headlight bulbs. Whether it's tires, maintenance or repair, drive on into Coats Tire & Auto Center LLC and see why we're a favorite mechanic among Coats, NC residents.
Call today for an Appointment
Meet Your New Mechanic
Time for an oil change? Concerned about your brakes? In the market for new tires? Come to Coats Tire & Auto Center! Stop by to speak with a tire sales associate or mechanic today.
A proud mechanic shop serving the following areas:
Buies Creek NC | Benson NC | Dunn NC | Fuquay-Varina NC | Smithfield NC | Newton Grove NC | Fort Bragg NC | Fayetteville NC | Sanford NC | Apex NC
| Cary NC | Raleigh NC | Garner NC | Clayton NC